Hua-I ih-yu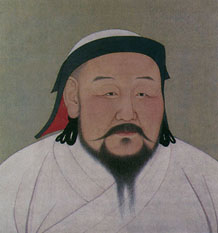 Хуа-и и-ю - это китайский сборник, созданный в правлении Hung-wu из династии Мин. В него вошли тематические словари языков 12 стран - Кореи, Рюкю, Японии, Аннама, Камбоджи, Бирмы, Монголии, Тибета, Чжурчжэньского государства и др. Монгольская часть Хуа-и и-ю состоит из словаря и сборника ханских указов. Тексты этих указов приводятся ниже. Словарь можно посмотреть здесь.

Транслитерация монгольского текста императорских указов (на основе публикации Э.Хенеша (1952))

Haenisch Sino-mongolische Dokumente vom ende des 14. Jahrhunderts, Berlin, 1952

a

1 tenggiri-de nembekdeksen otogen-e ergukdeksen olon amitan kedun bugu-yi ulu medekdemui. Gahca tenggiri medeyu. tenggiri gu ejeleyu. śilta'an inọ amitan-a oljei Gutuh ba Gor ada gurgen cidaGu-yin tula. gu'un amitan tenggiri Gajar ja'ura aju. tenggiri-yi ulu kundulekci ugai bugu śilta'an. oljei Gutuh ba Gor ada temdektei-e gurtegu-yin tula buiyu. tenggiri-yin yosun ke'esu sayit ta oljei Gutuh mao'un-a Gor ada gurgeyu. erden-ece ejiye gurtele 2olon ulus irgen-ọ de'ere Gan bolGarun. tenggiri Gala'ar gu'un so'ongGuju ejele'ulgu ke'esu. tenggiri o'erun oro olon amitan-i jarcimla'ulGu boluyu. gu'un amitan de'ere tenggiri-yin jorig-i kundulen daGan cidaju. ulus-un uile-tur ye'utkel ugai nikan jorig iyarkici'ebesu yeke oro barilduGu kemleśi ugai boluyu. kerbe toru'et-tur kice'et hecus-tur osoldaju. ulus-un uile-yi osolda'at irgen-i Gor ada bolGabasu. tenggiri Gala'ar busud-aca so'ongGuju ye'utkeyu. erde Goyar ja'un hon-nọ urida3 mangGol kitat ormice Garitan bukui-tur. emune umere ilGa'uritan aju bo'etele. ker maGat. kitat-un Gahan osoldaju. mangGol-un Gahan ber mao'u boluhsa'ar. tenggiri Dai Yuan mangGol Gahan-i so'ongGuju mangGol Gajar-a tore'ulju olon Garitan-i moGo'aju umedu Gajad-i amurli'ulu'at. Goyina ko'un haci nar anọ tenggiri-yin jorig-i daGan. emunedu Gajad-i amurli'ulu'at. emunedu be umedu gur ulus-i niketkeju mangGol ba kitat ilGal ugai neyide abai. Goyina ulam barildun ire'et ToGon-Temur Gahan boluhsan-tur. ulus-un uile4-tur osoldaju juk jug-ece bulGa e'usgeksen-ọ tula, tendece tenggiri Dai-Yuan mangGol Gahan-ọ jayan-i ye'utkeju. mani Dai-Ming-yi Gamug-i mede'ulun jaya'aju'u je. Dai-Yuan mangGol-un omog-iyar cenebesu. nikeduksen delegai a'ui. ceri'ut anọ gucuten Gabutan bo`etele. nikan udur tenggiri-yin jaya'an ye'utkeksen-tur. tere metu a'ui Gajat anọ juk juk Gubiyahda'at gucuten Gabutan ceri'ut anọ na'adun metu busanihdabai. e'u ber ke'esu tenggiri-yin jaya'an-aca anggida ken uiledun cidaGu. ci Ajaśiri tan huja'ur mangGol Gahan-ọ 5uruh bo'etele. tenggiri-yin jaya'an-i medeju. cinọ ene iregu ke'esu. mun erden o Śang ulus-un Hui-ze neretu ko'un takilun sabas-iyen abu'at Jeo ulus-tur orohsan-tur adali. ene metu tenggiri-yin a'ur-i daGahsa'ar ke'esu. ulu amurliGu yosun ugai buije. teyin bo'esu ber irekui cinọ maśi kilbar. e'uri urtu da sakiGui berke. altan cilao'un metu cing ciyirah ese boluwasu. tenggiri-yin jorig-i daGan ker cidaGu. ene jorig-iyen ulu uju'uren ja'urmalih ye'utke'esu. oljei huntao'u gurtegu mun halaGan hurbaGu6 metu oter boluyu. ci Ajaśiri tan ene metu cing unen niyer elsen ireksen-tur. Gala'ar busu setkil Ga'a bolGu. urida mangGol kitat neyide bukui-tur. mangGol Gahan delegai-yi ejeleju bule'e. tenggiri-yin jorih ye'utkeju. oyirin-aca mangGol kitat neyide gu bolju. Dai-Ming-yi delegai-yi ejele'ulukse'er. Gala'ar ye'utkel ugai tenggiri-yin jaya'an boluhsan temdek bui. ci minọ jarlih jasag-i daGan gurteksen jerge-tur-iyen aju o'erun jorig-iyen sakiju. ebesun usun daGan7 tenggiri-yin tore'uluksen mandu'uluhsan-iyar jirGaju. niuleskui setkil-i'er olon ni amurli'ulu'at. irgen-iyen undurGan osgeju. de'ere tenggiri-yin jorih-tur adali boluwasu. ulu urisgu ulu sayijiraGu ugai buije.

2. burhan eng urida bara'un etet toreju. nom-un surGa'uli ino dotoradu ulus-tur ber guru`et Goyina dorben jug-un irgen-tur gurtele a'ui-a delgereju. bugude uiyitGar ugai kundulen takiju'ui. gune onowasu. ene ertingcu-yin gu'un amitan-ọ setkil ano arGa jali tan maśi olon-nọ tula, kedui ba hirgui jasag-iyar jasabasu ber. ayu'ulun ulu cidam. tabun juyil tore ber uduritbasu ber, ulu buśirem. gu'un-nọ setkil-un berke. 9aburi-yin keceo'u bukui ber. kedui ba Gan gu'un edege'ulgu ugu'ulgu ogu abGu uiles-tur erketu bo'esu ber. mun gu jarlih jasag-iyar yabu'ulun yadan bo'etele. burhan nom-un nere sonosu'at. secen ber mungGah bayasun. suzulukcin kedun to'an bugu-yi ulu medekdem. ese ber jasabasu setkil dotora'an oru yen jasahcin to'a tomśi ugai bolGu. enekte amitan-i ulu alan edege'ulgu cing joriG-un belge inọ ene metu temdek bolun aju'u. oyiri Dai-Yuan mangGol-un jaya'an hecus bolju. Gahan tuśimel Garacus irgen 10anjirun durbelduju umedu Gajar-a yabuGui-tur. gu'un tutum temut huya'ud-i emusju. batu numun bariju. Gurca sumud-iyen śeo'uriju. udur süni ulu osoldan manan bekileldubesu. sayi beye yuyen saki'at ger-iyen tegusgen cidaju. hon sara nokciyu. kerbe jebe ugai Gar Go'osun śiyidan Gubcasu bar yabuju. amuGulang-iyar e'uri asuGai keyen erebesu ulu bolun aju'u. edo'e-tur toyin Ilinjin-Zangbu śigamuni-yin yosun daGaju. amitan-i ulu alan edege'ulgu enerigu cing jorig-i barimtalaju. Gar Go'osun śiyidan 1lGubcasu bar, nikśik hunir tu ideśi ten-tur aju. mun gu anọ aburi-yi daGan suzulgen cidaju. śigamuni-yin nom-un tore-yi ulu usatGan. enerikui aman aldaGui Gaśi'un jobolang Go'osun hohtorGui ahlah-tur otGui ki'ed-i nomlaju. gu'un amitan-ọ setkil-i godolgen cidaju. Gorin hüle'u hot boltala berke kerbel ca'ud-i onggerekse ber ke'esu. biliktu toyin busu'u bui. edo'e imayi mun Tai-ning Gajar-un Wan-śeo sume-yin ju-ci bolGaju. śigamuni-yin nom-un surGa'uli-yi delgere'ulju 12nomuGan sayid-i ba hiiri'u keceosi nomuGatGan surGan atuGai. ket ber ujeju kundulen atuGai. alibe alban Gubcirin ulu abun bu GutGulatuGai. teo'u ber bariju a'ai jarlih okba.

3. 13tenggiri Gamuh irgen-i tore'ulju. Gala'ar Gahan gu'un ni jayaju ejenle'uluyu. teyin ber bo'esu. Gahan boluhsan. Gala'ar de'ere tenggiri-yin jorig-i kundulen daGaju. dōro ulus-un uile-tur kice'ebesu. tendece delegai-yi yeru GadaGalan cidayu. tenggiri Gajar ja'ura. toreksen gu'un amitan olon. gu'un tutum nijeget setkil ten bui. kerbe tenggiri temdektei-e jayahdahsan Gahan gu'un-nece anggida. ani cing unen setkil-i'er bayasGan bokeyilgeju. nikan-ni'er bolGan ker cidaGu. 14teo'u ber tenggiri Gajar tumen juyil amitan-tur. ulu ergugu ulu nembegu ugai bui. Gan gu'un tenggiri-yin oron-a olon amitan-i jarcimlan bukui-tur. Gala'ar tenggiri Gajar-un setkil-i setkil bolGan. delegai-yin amitan-i alahcin ugai nikan yosu'ar enerin asaraGu ke'esu. olon amitan-i engke ber amurli'ulGu yintula bui. utu ele Gajar ao'utkiGu-yin tula busu. ci Tabin-Temur huja'ur Dai-Yuan mangGol-un Gahan no uruh bolu'at. urida mangGol Gahan-na tuśikdeksen bui. tenggiri mangGol-un jaya'an-i ye'utkeksen-tur uciraju. icuju ahlah sa'u'at. edo'et-tur mangGol kitat neyide boluhsan-tur. 15tenggiri-yin jorig-i daGan. elsere ireksen-tur. bi cing unen setkil-i cinọ jobśi'eju. jorin Tai-ning ui baiyi'ulu'at. cimayi Huai-yuan jiyang-gun mun ui-yin ji-hui tung-ji bolGaba. ko'un haci nar-tur cinọ gurtele orośin noyalatuGai. ci niuleskui aGali bar olon-i amurli'ulu'at. tenggiri-yin cag-i daGan. Gajar-un Garli bar jirGaju. amitan-i undurGan osgeju. ayun emiyen gurteksen jerge dur-iyen aju. ireksen cing unen jorig-iyen dulet-e cing batu bolGaju. ekilekui-ece hecus-tur gurtele ulu ye'utkan Gatao'uji'asu. tenggiri bayasun iheget. 16oljei Gutuh uru'un uruh-tur cinọ gurteju. keb keje'e gurtele gemur ugai bolGu. ayun emiyen kiceyen Gatao`uji nai konggene bu setki,

4. 17tenggiri-yin yosun to'orimtao'u ke'egu bui. otcu ulu iregu yosun ugai aju'u. urisgu cah bolu'asu ele Gala'ar eculgu udur ber boluyu. ene bu'et to'orimtao'u-yin yosun inọ bolai. urida Dai-Yuan delegai-yi yerulen medeksen-tur. erke gucun inọ delegai-tur delgereju. Gajar de'ere ele aGun irgen. bugude medel-tur inọ oroju. jarlih jasag-i inọ ulu daGahcin ugai aju`u je. torun ji-jing harban nikantu'er hon-naca. ulus irgen jasaG-aca inọ ulu ayun. 18olon omohtan haran hekilen samao'urahsan-tur. kedui ba urida Dai-Yuan-nọ tere metu erketu gucutu bukui-tur bu'et. keni ba ya'u ba kin ese cidahsan-ọ tula dotoradu Gajad-i juk juk erketen gucuten-e ejele'uldeju. ulus irgen harban hot hüle'u boltala cerig-un haśi'un jobolang yi ujegui-ece horugu-yin tula, bi dai jiyang-gun Jung-śan U-ning ong Kai-ping jung-u ong tan-i jaruju. moritan ba yabuGan ceri'ud-i uduritGa'ulju. tede olon omohtan-i tubśi'eritge'ulu'et. dotoradu Gajad-i arilGaju. Goyina basa Hung-u Gorinduwar hon Gorin nikandu'er hontur. 19jiang-gun Sung-go gung Fung-śing Yung-cang heo Lan-yü tan-i Goyarta uyelen ceri'ut uduritGa'ulju. mangGol Gajar-a gune oroju. mangGol noyat ba ulus irgen i. bugude-yi Gumbiju amasad-un dotora ba Gadana ao'uluhsan-tur. hüleksen yekes tuśimet anọ. Ganọ'an abu'at umekśi odu'asu. Horim gurun udu'uye. uGamsar ada eduju. Gahan anọ Garacu tuśimel-un Gar-tur Gorohdabasu. Gahca Nekelai ceri'ud-i'er oriyen bekileju. de'ere tenggiri-yin yosun ni Garan. dōro gu`un amitan-ọ naiyiri bolGa'aju. Gahan-tur-iyen Gor gurgeksen 20GulaGai-yi ulu daGan. mao`un luwa nokoceksen nere-tur ulu oron. teo'u ber olon-iyen ulu butara'ulun uduridu'at emunekśi ireju. nama Dai-Ming-tur elsen ireksen-ọ tula. Hung-u Gorin Goyaduwar hon dorben sara-yin nikan śini de. noyanlaGu nere ba tamGas okju. mut noyat colos-tur-iyen yabuju uile GadaGala'at. kedun saras bolba. teyin bo'etele olon noyandaca cing-siang Śiremun. kedunte ebecin keyen. oduhsan elcin luwa ese ujeldu'et. edo'e li-bu-ece bicik ilēju. Nekelai ye 21mede'ultugai. Śiremun ni iregu duratu bolu'asu. ene seri'un-ọ ucir-i erusun. oroju ireju ujeldutugai. kerbe sa'arangGu setkiju. umekśi otsuGai ke'esu ber. Nekelai bu todu'etugai. inọ jorig-iyar umekśi talbiju ilē. yabuGui ucir-tur Śiremun luwa baraldutuGai. umedu Gajar-a otju maGat amuGu cenektu bo'esu. cidaGui-aca uile uilettugai. kerbe berke jobolang bolju yabun ese cidabasu. jici basa Gariju iresugai ke'esu ber. inọ gu setkil-i'er 22bolGatuGai. ket ber bolju umekśi otGui duratan bo'esu. ene yosun ar boltuGai. erden-ece ejiye gurtele. tenggiri-yin yosun ni jociju. beye yuyen alahda'at ger-iyen eculgeju. nere GarGahsat bui. tenggiri-yin jorig-i daGaju. olon-tur iheyen bolu'at beye-ben tegusgeju. delegai-yi amurli'uldu'ulcahsan ber olon. jorih inọ kedui ba ormice bo'esu ber. erden-ọ bici'ut-tur ujebesu. utu nikan Goyar gu'un-nọ uileduksen busu bui. ene bicig-i Śiremun ujeju 23jorig iyaran yabutuGai. iregu-yi inọ ulu jetgugu. otGu-yi inọ ulu todugegu. olon haran uGatuGai medetugai.

5. 24urida manọ Dai-Sung Gahan delegai-yin yeke uile mede'et. Gurban ja'un harban hot hüle`u boluhsan-tur. ko'un haci nar anọ. olon ulus irgen-i ulu GairalaGu-yin tula. tenggiri jaya`aju Cinggis Gahan ni tore'ulju. mangGol Gajar-a bugu Garis-i bugude-yi Gamu'at. basa Sartahcin Gajar-a bugu Garitan-i Gamuju'ui. Goyina basa nikan niuleskui aburitu sayin haci ko`un toreju. manọ dotora Gajar-a ireju. Gahan bolu'at. Secen Gahan keyen nereyitju'u. 25mun mano Sung ulus-un irgen-i ulu Gairalahci Gahan ni. bugude-yi tubśi'eridu'et. dotora-yin ulus ba Gadao'un bukun ali be juyil ten irgen-i bugude-yi Gamuju gur delegai-yi yeru mede`et. ja'un ilaśi hot boluhsan-ọ tula, niuleskui aburi-yi inọ ulu duraduhcin. tungGahsan jasag-i winọ ulu ayuhcin ugai aju'uje. ene metu a'u tusa GaGarGai jasag-i inọ dalan hüle'u hot boltala delgereju. ulus irgen engke ber jirGabai. Goyina ToGon-Temur Gahan Gan boluhsan ucir-tur. ulus irgen-i maśi ese Gairalahsan-ọ tula. 26teo'u ber delegai de'ere samao'u bolu'at. job buri jasan yadan. gur de'ere hekit olon bolju. ulus irgen nike ber bolun yadaGu ucir-tur. bi duri-yin nere ber aGui-tur. olon ulus irgen amurlin yadaGu-yi ujeju. teo'u ber manọ Gajarli`un uruh tarih ba korśis olon nokot ki'et eyetulduju. cerik Guriyaju. dorben tabun hon-nọ ja`ura tede samao'urahsad-i bugude-yi tubśi'eridukse ber. mangGol ceri'ut elsegun-i else'ulu'et. olangkin umekśi otju'u je. Hung-u Gorinduwar hon 27Gorin nikantu'er hon. Goyarta uyelen cerik yabu'ulju. mangGol Gajar-a gurju. olon mangGol ulus-i abu'at Gari'ulju ire'ulju amurli`ulbai. Gahan boluhsan ToGus-Temur tumede hüle'u harad-i uduridu'at. Yesuder-un tende otju. Yesuder mut ecige ko'un Goyar barihsan i. elcin ireju ugulerun. ani bugude-yi nokciyebe ke`emu. bugu ceri'ud i. dotu'er ji-yuan Nekelai go-gung Lao-sa cing-siang Śiremun tan. tasus uduridu'at ireju elseksen-ọ tula, ani ebesun usun-ọ jokimji bar adusun teje'ulu'et 28 tariyala'ulun sa'ulGaba. busu anggida ceri'ut yabu'uldaGu Gajar ugai-yin tula, bi edo'e delegai-yi medeksen ucir-tur. ene naiyiri z'ien-yuan Tumeder fu-śi Gala tan-i jaruju. umere Gajar-a bugu. Anda naGacu z'ien-yuan-ne uguletugai keyen jaruba. mut basa yambar setkil bo'esu. oduhsan elcin luwa gu'un jaruju Gamtu'ar ireju ali be naiyiri yen ugulemuje.

b.
1sutu Gahan a. bo'ol Samandaśiri. Muda Darmu Hoji Sangirca Abaci Gendukbal Garatobot Naiyira-Buha Ganahbal tan. bicig-iyar ocimu. de'ere tenggiri-yin jaya'an bar. delegai ertingcu sutu Dai-Ming Gahan nọ'ai boluhsan bar. ba urida Nasurding tan i. sutu Gahan-nọ altan cirayi-tur. a'ulja'ulun otbasu. jarlih bolurun. edo'e ci darui-tur oter Gari. tende-yin ong ba ulus irgen dur-iyen kelele. 2huja'ur-un nuntuh dur-iyen sa'uju. aimah-un aGalahsan daca. iretugai keyen jarlih boluhsan-nọ tula, teo'u ber nidoni Muda Naira-BuGa Bolot tan i. ahtas-iyar a'ulja'ulun ilebesu. sutu Gahan soyurGaju. mana jorin elcin jaru'at jarlih irerun. Gansu Śa-jeo ki'et Gajad iyar. ebesun usun-nọ jokimji bar sa'utuGai ke'eksen-ọ tula, ba ber Śa-jeo da ji-hui Gucuk luwa Gamtu bar bolun. Sutu Dai-Ming ejen-nọ jarlih jasag-i Garaju nikan jorig i'ar gucun oguya ke'eju sa'un amu. yambar-iyar soyurGaGu-yi 3jarlih medem.
de'ere Dai-Ming Gahan na. Namun guregen Engke-tura batur ocil manọ. huja'ur ulus ejen Cinggis Gahan-nọ jarlig i'ar. ejen Ca'adai Gahan-na daGan salGahdahsan. Manghol ulus-i jarcimlaju. uridus-tur manọ 4tuśiju mede'ulju bule'e. tere caG-aca inahśida tenggiri-de ihekdeju. mendu ele uridu yosun ar tuśikdeju amu. edo'e soyurGabasu. yeke ulus-un bairiGai. edui edui de'ere barilduGui-tur. elcin kelecin iyen. yosun ar yabu'ulju. bezirget orto'ud iyen. mor terge'ur ne'e'ulgen. Gunaśiri ong-yi Gamil i'ar yabuGui yeke ulus-un bairiGai-yi. erin jarcimlaGu-yi. Gahan-nọ jarlih medetugai. ocil manọ. lu jil ubul-un heki sara-yin naiman śini de. Gala dele bukui-tur bicibei.

5dian-hia ejen ne. bo'ol TorGocar. bicig-iyar uGa'ulumu. edo'et-tur ba UriangGan hoyuhtai irgen. ulus-un ejen sutu Cinggis Gahan-nọ caG-aca inahśida. Eke doyen undur. Col muren ki'et Gajar usun aca'an. ejiye ese GaGacahsa bar. ulam Gat Gad-un cah-tur. huja'ur-un darun ahsan. he'ud-un śibao'ut. śile'usun ki'et bao'ulmad i. hot buri olon joyen oluhsad-un cene'er. Daidu da darun bule'e. edo'e 6sutu Gahan-nọ yeke tore-yi setkil orohsan-naca gurdegu alban ni. jici Liao-yang da'arin yabuju. de'ere gurgeye ke'esu. Gajar alci'an-nọ tula, iren odun hon to'oriGui bar. yadanggi ulus-a jobolang bolGuyu'u. teo'u ber ba UriangGan no ̣olon tuśimet ba irgen-nọ setkil. bugude-yin jorih dote, dian-hia ejen-ne mede'ulju. ali be alban bolu'asu. Gajar-un ilubde daGan. Bei-ping-a daru'ulun abasu. Ganli'un ba ulus-un uile-tur. dogan bolumu je. 7soyurGa'asu ulam Gahan-na ocigu-yi. dian-hia ejen-nọ su Gutuh medetugai.
ji-hui siang-gung-un gege'eyen joriG a. Śiremun jorig-iyen uGa'ulju ilemu. Śiremun-nọ Ga'ucin ebecitu bugu-yi. ji-hui siang-gung medel bule'e. nidoni hon-naca ebecin nemanggu bolju. yabun yadaGu śiltan-iyen 8ocigen ber. de'ere oci'ulju ilelu'e. ene tabun sara-yin harban tabun na. de'ere jaruhdahsan Majartai tan elcin Gariju ireju. Śiremun-na jarlih gurgerun. Śiremun ni Dai-ning-a gurju. Nanggia ji-hui luwa ujelduju. de'ere iregu-yi durala'asu. namur seri'un bolGan alGur jokiyen iretugai keyen jarlih gurge'et. li-bu-aca ireksen 9ja-fu bicik be mana tao'ulba. Śiremun jarliG-un yosu'ar darui-tur Dai-ning-a gurju. ji-hui siang-gung-un cirai-tur jolGan ujeldusugai ke'esu. ebecin-ne da'ahdaju. gucu-ben jibturaju. godolun yadaGu de'ere. dorben sara-yin Ga'ucin-naca. heki deyen nikan nao-zü kegu mao'u geji'un hartaju. ugun alda'at. ejiye-de ila'ari ese boluhsan bar. darui-tur gurun yadaju. ebecin niyen sobilaju ila'ari boltala. uge ugai ker aGu keyen uruhśilan gian-cing Jeyen-BuGa tan iyar. 10kelecilen ilebe. edo'e kerber Śiremun ni ila'ari bolju. ire kēgu-yi ba ebecin taki bo'esu. darui-tur ire keyen yambar i'ar dao'u bari'ulju iregu-yi ji-hui siang-gung-un gege'eyen medemu je.
11Dai-Ming Gahan-nọ su da. Nekelai-yin ocik. ba Garacus tenggiri-yin jaya'an bar Manghol Gahan-nọ ulus-tur toreju. uridus u'an caG-aca o'ed-un beyes-tur gurtele. uye uye soyurGahdahsan haci-yi setkin. kedui ba caG-un kerbel ucirabasu ber. setkil-iyen ulu alGasan. tus Gahan niyen uju'uren daGaju cidaGu cenek ber-iyen gucun okguya keyen yabutala. Arih-Boko-yin uruG-un ko'un Yesuder tan Oyirat luwa bolun daiyijiju. Gahan ni manọ gujilen onggere'ulu'et. 12yeke tamGa-yi abju. irgen orGo ni hecutgen burelgegu-yin tula, ba Nekelai tan tuśimet ba cerik ulus-iyar burin eyetulduju. eyimun gujir mao'un-a ulus irgen ni uje'et ker burelge'ulgu keyen budungGu-aca buruGudun jailaju. gegeyen-tur kelberin śitugu ke'esu. erde udur-ece bolu'at ireksen. tore bukui-yin śilta bar. Dai-Ming Gahan tenggiri-yin jaya'an bar delegai-yin ulus-i ko'un śibao'un metu alahcin ugai enerin GaiyiralaGu a'ui delegair jorih bukui-yin tula. 13tenggiri-yin gu jorig-i daGan gucud-iyen oksugai keyen emunekśi ne'u'et hon-nọ koyiten ucirahsa bar. Col gurju ebesu geljen toridu'et. GorGui IlaGa tan elcin niyar yesun ahtas-iyar a'uljarin uje'ulu'et. jori'ud-iyen oci'ulju ilemu. soyurGaGu-yi jarlih medemu je.
14Gahan-nọ su da. Nekelai-yin ocik. ocigen ji-hui Darmaśiri tan elcin ireksen-nọ Goyina. ba jarli'un yosu'ar Ying-cang-un emune Da neretu Gajar-a sa'uju atala. ene moGai jil Gurban sara-yin harban dolo'an a. Yen ong ejen uruhśida mani yeke ulus-tur neme'esun bolGaya keyen irgen-nọ amin aburaGu-yin tula uruhśilan hüre ba z'ang gunesun anjat soyurGa'at. cerik ulus-un orgen to'o ni okju iretugai 15ke'eksen-nọ tula, ling-ji-yin yosu'ar noyanli'ut ba cerik irgen-nọ orgen to'o'an ki'ed-i ba [okju] basa buriyer eyetulduju hüre daGan tariyalaya keyen ebur oron. Aral muren-na nutuhlaGu-yi. Yen ong ejen-nece jaruhdahsan Wan bai-hu tan elcin-iyar oci'ulju ileju bule'e. Goyina basa emunekśi ne'uksen ni ba Yesuder juk daiyijihsan Mang-gia, Jeyen-BuGa tan-ọ śilta'an ni Batu tan-iyar oci'ulju ileget. darui-tur uruhśi ne'uju. 16Aral neretu muren-tur gurju irebesu. ene dorben sara-yin Gurban śini de. de'ere-ece sü-ban Guliki tan elcin hubu-ece ireksen bicik abu'at ireju. mana jarlih gurgerun. ene hon jun ba ubul-un gunesun iregu jun-nọ gunesun okguya. mut kolgen ba terget GarGaju jam baiyi'ulju joge'ultugai. basa cerig-un yeke ucugan-nọ cing to'a bar bicik iretugai. ba GaGarGaya bolGaju. bose ba yungGot soyurGaju ilemu je keyen 17 jarlih gurgeksen-nọ tula, sutu Gahan eyinekte ba Garacus bo'old-i enerin z'ang gunesun ba Gubcat soyurGaju bo'etele. basa Goton-naca z'ang jogelgan ke'esu. cerik irgen ni jobolang bolu'ujei keyen. ba burin eyetulduju Aral muren gurtele ne'uju oyira boluhsan bar. oGada Dai-ning Goton-naca gunesun o'erun gucun-iyar jogelge'ulgu-yi ba. basa yeke ucugan tabun ja'un nikan noyanli'ut luwa. Goyar mingan dolo'an ja'un yesun ceri'ut dotora eke to'a tan 18tabun ja'un Gucin nikan osburin Goyar mingan nikan ja'un dalan naiman ceri'ud-un Gatut haran Gurban mingan nikan ja'un harban nikan ucugan nọ'un ko'uket nikan mingan yesun ja'un docin tabun ucugan okin ko'uket nikan mingan naiman ja'un tabun eke to'a tan ba osburin ceri'ut Gatut haran ucugan nọ'un okin ko'ut ki'et yeru yesun mingan tabun ja'un jiran nikan amit. basa nuntuhlahsan śilta'an ki'ed-i Dalan-BuGa tan niyar oci'ulumu. soyurGaGu-yi 19jarlih medemu je.
19Vmingan medegu Nanggias Gadai tan. nidoni hon cao'uraGui-tur. harban sara-yin harban tabun-na Tao-yuan-tur guru'asu. yabuGan ceri'ut GadaGalahsan mingan medegu Nanggias. moritan ceri'ut GadaGalahsan mingan medegu Gadai tan 20Gara ji-hui-tur otju ugulerun. edo'e Nanggias uruhśi yabuju. minọ yabuGan ceri'ud-i kuiyicere otsuGai keyen harban Gajar yabuju. ja'un-nọ noyan Seo'utu-yi jolGaju kelerun. Ding-ju-yin de'u Aruhtu GuluGun Janggia'a NaGacar Gutu-BuGa basa Gurban tumen-nọ Jurcet ki'et eye niketju ji-hui-yi ba Gurban mingantu ki'ed-i bariyat. basa olon ceri'ud-i Guciju. o'erun Gajat-tur Garim ke'emu. NaGacar Gutu-BuGa ceri'ud-i'er daiyijiba. Tao-yuan-tur bugu moritan cerik 21Aruhtu GuluGun Janggia'a tan luwa Gamtu bolun kedun gu'un ni alaba. edo'e ji-hui-tur ja'ara irebe ke'esu. ji-hui Gala mingan medegu Nanggias Gadai NairaGu tan Gamtu eyetulduju. edo'e bida sutu Gahan-na soyurGahdahsan haci ugai bolba. ker ede mao'un haran-tur Gucihdaju ottaGu keyen. darui-tur Hü ji-hui Gu z'ien-hu-tur ja'a'asu. mut noyant ja'un-nọ noyan CaGan-BuGa harbatu Ulduci tan-i jaruju. bolGara otGu ja'ura. Aruhtu GuluGun Janggia'a NaGacar Gutu-BuGa tan 22ceri'ut Guyahlaju. numun sumun bariyat ireju. bidanọ munggun buse morit aca'an tasus dao'uliju abu'at. basa Gala ji-hui-yi muren-nọ kijar-a śiGaju. busut ceri'ud-i erkede ulu mede'ulun. Guciju oduhsan-nọ tula, Gucin moritan ceri'ut Guriyaju. mun süni harban Gajar yabuju kuiyicebe. oroju Gat'ulduya ke'esu. bidan-i daGan oduhsan ceri'ut joyen. mut GulaGan Garin mani daruju. tabun gu'un ni ala'at. harban nikan gu'un ni yaraGahdaju. ba mun udur Gariju. Tao-yuan-tur gurbe. noko'e udur basa nekere oduya ke'esu. 23bidani ese itegeju Guyah jer jebe-yi Guriyaju ese ilēbe. Goyina jarlig-iyar Zi-ning heo-yi ceri'ud i'ar Yün-nan juk yabuduGai keyen. Gui-jeo-tur guru'asu. Kitat daiyijiba keyen zung-bing-gon-naca bicik ire'asu. ji-hui Gala mingan medegu Nanggias Gadai ja'un-ọ noyan Gutuh tan dolo'an ja'un ceri'ud-i abu'at. Gui-jeo Ping-yüe Dai-guai-si Seo-guai-si Z'ing-śui-giang-tur gurju. Kitat luwa Gat`ulduju Gariba. mao'un gu'un-nọ jonturuh-tur ugugu gu'un bule'e. ese ugu'ulbe. basa yeke śang soyurGal okbe. mono Goyina 24ene amin beye-ben tebciju. altan Goton-tur sa'uju. uruhśida kicegeyen ejen-ne gucun oksugai.